[Disclosure: This post may contain some affiliate links. Meaning: If you would decide to make a purchase through those links, we would get a commission (at no costs to you)]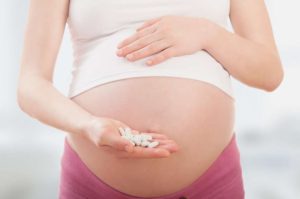 Having a healthy baby needs a healthy mommy! The chances of having a healthy baby increases by getting the right dosage of folic acid during pregnancy and even before pregnancy when trying to get pregnant.
Folic Acid During Pregnancy?
Folic Acid, also called folate, is a type of B vitamin that our bodies use for cell regeneration.
A study shows that Folic Acid is vital for several body functions, including:
Repair and synthesis of cells.
Supports cell division and growth
Production of healthy red blood cells
Reduces the risks of heart disease
Slows the progression of age-related hearing loss
Increases memory
Folic acid during pregnancy is important for the growth of the embryo's spinal cord. Since the spinal cord is formed first in our body, it is essential that folic acid levels are accurate during the early stages of pregnancy. If a woman has enough folic acid before and during her pregnancy, it can significantly reduce major birth defects of the baby's brain and spine, called Neural Tube Defects, or NTDs, which can be devastating.
More specifically folic acid supplementation during pregnancy also protects your baby against:
Miscarriage
Low birth weight
Premature birth
How much Folic Acid Should a Pregnant Woman take?
The recommended dose for most women is to take at least 400 micrograms of folic acid every day. Food and Nutrition Board recommend an increase of dosage from 400mcg/day to 600mcg/day for pregnant women. Women who have diabetes, who are obese or who take anti-seizure medicine are more probable to have a baby with neural tube defect and should consult a physician for the right dose of folic acid. Considering unplanned pregnancies, and also women who do not know that they are pregnant, many sexually active women would benefit from taking folic acid supplements* daily.
Natural Sources of Folate
Good sources of folic acid are mostly found in dark green leafy vegetables, but do not overcook them, as the content of folic acid can considerably drop.
Here are some other foods that are rich in folic acid:
Asparagus
Breakfast Cereals
Broccoli
Brussel Sprouts
Beans
Lettuce
Liver
Orange
Spinach
Whole Wheat Bread
Getting enough folic acid in your pregnancy diet is something now well-known but there are still so many things nutrition science has yet to discover. Point is that it is always recommended pregnant women to have a healthy and balanced diet!
*affiliate link