[Disclosure: This post may contain some affiliate links. Meaning: If you would decide to make a purchase through those links, we would get a commission (at no costs to you)]
Your foot does a lot of work and they are usually the least pampered part of your body. A foot massage, even just a few minutes, will pamper your feet and keep them flexible and strong. It has been practiced by different cultures for many years to promote health, well-being and as a valuable part of alternative medicine.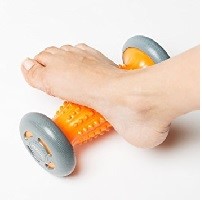 Stimulating and applying pressure on the feet is definitely pleasurable and at the same time helps promote good health.   If you don't have a close one to massage your feet and you are not willing to spend the money for a professional foot masseuse, you can try using a foot roller*, but don't fool yourself, that will not feel as good as someone massaging your feet!
Here are some health benefits that you can get of having a foot massage.
1. Encourages a Better Sleep
Having a soothing and relaxing foot massage before going to sleep can help your body unwind improve blood circulation and relaxes the nerves. In order to promote a better sleep, there are accurate points on your feet that needed to be massaged.
2. Improves Blood Circulation and Cleansing
A ten minute of daily foot massage can help improve your blood circulation. It will help transport oxygen and nutrition to the body's cell which is good for your overall health. The blood can also cleanse waste and toxins from the body. Foot massage decreases stress and allows the circulation of blood to flow smoothly.
3. Helps you relax
When your feet tends to swell up the best way to relax after a long tiring day, is to have a relaxing and soothing foot massage. It also gives you an extra boost of energy that relieves the symptoms of stress and fatigue. A regular 5-10 minutes of foot massage before going to bed helps improve your overall well-being.
4. Alleviates Depression Symptoms
According to a study of the Journal of Clinical Nursing, foot massage helps in fighting depression. Certain points on the feet can help in alleviating depression symptoms. Massaging these certain points or by simply applying pressure to them for a few minutes improve your level of happiness.
5. Relieves different types of pains and aches
Foot massage is also known for treating different types of pains and aches, such as headaches, neck pain, migraines, lower and upper back pain.
For back pain, gently massage your toe to the ankle in a small circular motion using your thumb. You can also massage the soles and tops of your feet.
For neck pain, you can firmly massage the joints that join your toes to the foot for at least 5 minutes or until the pain subsides.
In relieving headaches and migraines, you can massage your whole ankle and it also reduces pain and swelling in the ankle.
To relieve lower back pain, you may apply pressure using your thumb between the outer ankle bone and Achilles tendon for a few minutes.
Finally, having a regular foot massage is one easy way to keep your feet healthy and free from all kinds of foot diseases. It also stimulates the muscles around your feet, reduces pain and lessens the stiffness in your ankles or the heels. This will make your ankles flexible and strong, therefore reducing the chances of foot and ankle injuries.
*affiliate link