[Disclosure: This post may contain some affiliate links. Meaning: If you would decide to make a purchase through those links, we would get a commission (at no costs to you)]
Staying active while pregnant is extremely important both for you and for your baby. Many exercises such as stretching and yoga may be safely performed throughout all nine months. Pregnant stretches, preferably in the morning and evening can have a variety of benefits. Also it is important to discuss with your doctor before doing any pregnant stretches.
Benefits of Pregnant Stretches

More flexibility
Keep muscles less tense
Ease pregnancy aches and pain
Enhances body's range of motion
A healthy way to relax and release stress
Tips for Safe Pregnant Stretches

Warm up before stretches, cool down afterward.
Move slowly and gently – your joints and ligaments are more relaxed during pregnancy.
Hold each stretch for 10 to 30 seconds. Your muscles need time to relax.
Don't bounce or force a stretch.
Stop stretching if you're uncomfortable or in pain.
Use your breath, exhaling as you stretch and inhaling as you return to your start position.
When holding a stretch, continue breathing deeply and slowly. Each time you exhale, gently deepen your stretch.
After the first trimester, avoid doing stretches while lying flat on your back. This position can reduce blood flow to your uterus and cause abnormally low blood pressure and lightheadedness. Use a wedge or pillows to prop up your upper body during stretches that require you to lie down.
Some Pregnant Stretches

Back stretch
Start on your hands and knees, with your legs wide apart and hands placed forward just a little in front of your head. Place a small pillow under you to give support to your abdomen, if needed during this back exercise. Sit back on your knees and stretch your arms forward to feel a stretch along the spine.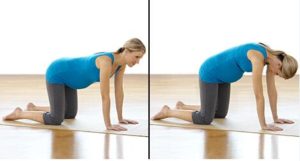 Source: Mayo Foundation for Medical Education and Research
Shoulder circles
While seated or standing, rotate your shoulders backward and down in the largest circle you can make. This opens the chest, counteracting the rounded shoulders that are common among pregnant women.
Total number of repetitions (reps): three or four.
Chest stretch
Standing in a doorway, place both hands at shoulder height on either side of the doorway, with your elbows bent. Step your right foot forward until you feel a slight stretch in the chest muscles (being careful not to stretch too much). Hold for 30 seconds.
Switch feet, stepping your left foot forward. Hold for 30 seconds.
Total number of reps: one or two per side.
Abdomen
Open the front of the body with this liberating stretch, designed to elongate the muscles working so hard to support your baby belly.
Kneel on your left knee with top of the left foot pressed against the ground. Place your right knee on the ground and position the sole of your right foot against your left inner thigh. Place your right palm on the ground behind you, fingertips pointed away from the body.
From this position, exhale as you extend the left hand overhead and press your hips up.
Inhale to lower down placing your hips back on the ground. (Place a pillow under your hips if this is uncomfortable.)
Total number of reps: one or two per side.
Thigh and hip flexor stretch
Lie on your left side, with your head on a pillow or a folded towel. Slightly bend your left leg for stability.
Bend your right leg, moving your foot toward your bottom, and take hold of your right ankle. Gently pull the heel closer to your bottom and draw in your abdominals to support your lower back. You should feel a stretch in the thigh and deep hip flexors. Hold for 30 seconds.
Release and switch sides, lying on your right side.
Total number of reps: two per side.
Calf stretch
Stand about 2 feet from a wall, with your arms extended in front of your shoulders and feet at shoulder width.
Press your hands to the wall and lean forward, bending your elbows as your body tilts.
Keep your heels on the floor to stretch your calf muscles. (Don't do this exercise in socks or slippery shoes – you want your feet to stay put.)
Hold the stretch for 10 seconds. Slowly push away from the wall to straighten up.
Total number of reps: two.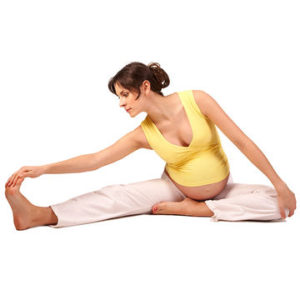 Entire Body
This stretch opens your back and chest to promote deep breathing, which alleviates stress and the physical tension that accompanies it.
With an exercise ball in front of you, sit in a kneeling position with knees spread wide enough to allow room for your belly.
Cross your forearms on top of the ball and roll it forward, bending from the waist. Relax your upper body into the ball as you take slow deep breathes and relax your pelvic floor muscles. Hold for one to two minutes.
Generally, stretching just 15-20 minutes twice a day is a wonderful way to enjoy the benefits of pregnant stretches. Consider trying to work it into your daily routine after waking in the morning and before going to bed at night. Your body will benefit from pregnant stretches!
*affiliate link