[Disclosure: This post may contain some affiliate links. Meaning: If you would decide to make a purchase through those links, we would get a commission (at no costs to you)]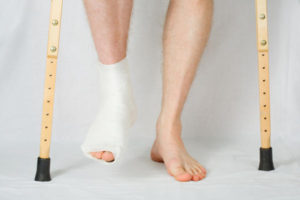 Ankle injuries are defined by the kind of tissue — bone, ligament, or tendon — that is damaged. The ankle is where three bones meet, the tibia and fibula of your lower leg with the talus of your foot. Bones are held together at the ankle joint by ligaments, strong elastic bands of connective tissue that keep the bones in place while allowing normal ankle motion. Tendons attach muscles to the bones to do the work of making the ankle and foot move, and help keep the joints stable. In the previous article we have detailed ankle sprain treatments and causes. In this article we will talk about ankle fracture!
Ankle Fracture?

A fractured ankle can range from a hairline fracture or a simple break in one bone, which may not stop you from walking, to several fractures and may require that you not put weight on it for a few months. Every fracture is unique and it can also occur with simultaneous tears of the ligaments.
What you can do at home to help

If you suspect an ankle fracture, you should call your doctor or go to a hospital's emergency department immediately. In the meantime you can usually do the following:
Rest: Rest your ankle by not walking on it. Limit weight bearing. Stay off the injured ankle so you do not injure it further.
Ice: Apply an ice pack* to help slow, or reduce the swelling within 48 hours of an injury. Repeat as needed. Don't put ice directly on the skin, and don't ice more than 20 minutes at a time to avoid frost bite.
Elevate: Elevating the injured ankle to at least the level of your heart will reduce swelling and pain.
Medicine: Ibuprofen may be ideal for ankle injuries, because it acts as both a pain medicine and a medicine to keep inflammation down. But check with your doctor first if you have any medical problems or take any other medicines or supplements.
Medical Treatment for Ankle Fracture
The type of ankle fracture, and the stability of your joint will determine the type of splint, or cast that will be used, and how long it will need to be in place.
Splint or cast: If your bones are not aligned properly, the doctor may realign them before placing the splint or cast.
Operation: If the bones cannot be realigned properly in the emergency department, then you may require an operation. An operation will also be needed if any bone has broken through the skin. If the bone breaks through the skin, the fracture is then called a compound fracture. This is more serious than a simple fracture.
With any injured ankle, you should not bear weight until your doctor says it is OK to do so. You may still need a non-weight-bearing cast that will require the use of crutches to help you walk. After the swelling decreases and you are reexamined your doctor may place a better-fitting cast or splint on the ankle. Depending on the type of fracture, you might be able to use a walking cast, which can bear some weight.
Follow-up care for an ankle fracture depends on the severity of the fracture. The average ankle fracture requires 4-8 weeks for the bone to heal. Although most people return to normal daily activities, except for sports, within 3 to 4 months, studies have shown that people can still be recovering up to 2 years after their ankle fracture. It may take several months for you to stop limping while you walk, and before you can return to sports at your previous competitive level.
*affiliate link