[Disclosure: This post may contain some affiliate links. Meaning: If you would decide to make a purchase through those links, we would get a commission (at no costs to you)]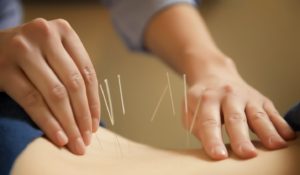 Nearly 8 out of every 10 people will have back pain at some point in life. The good news is chronic low back pain is one of the conditions that research suggests acupuncture may be a very effective tool. Acupuncture for back pain is also the No. 1 reported reason for seeking acupuncture.
Acupuncture for Back Pain Proven Effective
A study has shown that acupuncture for back pain provides more relief than other medications or physiotherapy, reported The Daily Telegraph and other newspapers. Treatment using the "ancient Chinese technique of acupuncture is better at reducing back pain than more conventional treatments", The Telegraph said. Time reported study results, conducted by researchers at Memorial Sloan Kettering Cancer Center. Results of that study concluded "the benefits of real acupuncture are due to something more than the placebo effect."
What is acupuncture?
Acupuncture is a form of traditional Chinese medicine that has been practiced for centuries. It's based on the theory that energy, called qi (say "chee"), flows through and around your body along pathways called meridians.
How does acupuncture work?
Acupuncture improves the body's functions and promotes the natural self-healing process by stimulating specific anatomic sites–commonly referred to as acupuncture points, or acupoints. The most common method used to stimulate acupoints is the insertion of fine, sterile needles into the skin. Pressure, heat, or electrical stimulation may further enhance the effects. Other acupoint stimulation techniques include: manual massage, moxibustion or heat therapy, cupping, and the application of topical herbal medicines. It is virtually painless when done by an experienced practitioner.
It's thought the effects come from stimulating the central nervous system. This may trigger the release of chemicals into the muscles, spinal cord, and brain. These chemicals either alter the experience of pain or produce bodily changes that promote a sense of well-being. Other theories suggest acupuncture works by:
Speeding the relay of electromagnetic signals. This may begin the flow of pain-killing chemicals such as endorphins. Or it may release immune system cells in the body.
Triggering the release of natural opioids. These are chemicals in the brain that may lessen pain or promote sleep.
Changing brain chemistry by altering the release of neurotransmitters and neurohormones. Neurotransmitters either stimulate or dampen nerve impulses. Neurohormones can affect the function or activity of an organ in the body.
Points to Consider About Acupuncture
If you are considering acupuncture for back pain, discuss it with your doctor. Be sure to let your doctor know any other medications you are taking. Also tell your doctor if you are pregnant, wear a pacemaker, or have any type of implant.
Also there are some other things you should consider:
How often is acupuncture needed? Plan on weekly treatments until you start to see a benefit, then gradually lengthen the time until the next visit.
What does it cost? Acupuncture treatments range from $65 to $125 per session. Private insurers usually don't pay for it. Some plans may cover the cost of a physician-acupuncturist.
Who administers it? Ideally a trusted, certified provider. You can search for a trained acupuncturist at the National Certification Commission for Acupuncture and Oriental Medicine, or by calling the organization at 904-598-1005.
So if other treatments haven't helped your low back pain, it may be worth trying acupuncture. But if your back pain doesn't begin to improve within a few weeks, acupuncture may not be the right treatment for you.
Save
*affiliate link